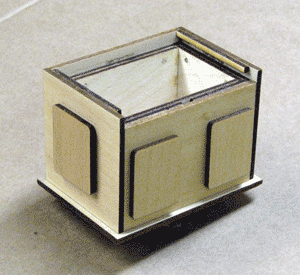 The puzzle pictured is made of 1/8" plywood for the inner box and 1/8" Basswood for the outer faces. The entire box was finished with a coat of clear lacquer. Kits may be available in the future that use hardwoods for the visible outside faces.
Little Box
This is a "casket type" puzzle box, and is a good introduction to making those type of boxes, which can get quite complicated. This one takes only 11 moves to open, and is fairly easy to make. The size of this box is 3-3/4" by 2-3/4" by 2-3/4" and is made from 1/8" wood and plywood.
This BH puzzle kit has alignment pegs built into the parts to make assembly easier and virtually every part in the kit is labeled. The plans for this kit are free.
Photo Assembly instructions for this kit.