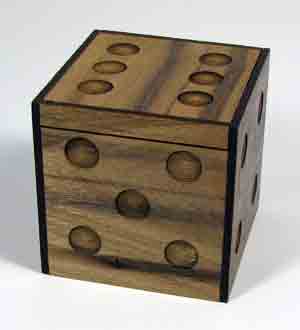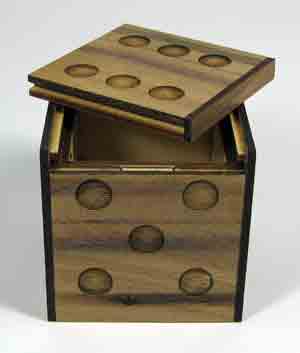 The puzzle pictured is made of 1/8" plywood for the inner box and 1/8" Walnut for the outer faces. The entire box was finished with a coat of clear lacquer. The dots on the outside are added by the builder. These were lasered after the box was finished.
Dice Box
Yes, I know that it should be "Die" and not "Dice", but then
"Die Box" sounds a bit creepy....
There's only one panel that will move, and it won't move when
the box is closed. So how can you get it open?
One way is to use gravity, and this box does that.
So you have to turn it over and over, to move the interior
sliding pieces until eventually the lid will open.
But in what order do you turn the box around?
The answer is actually on the box, staring at you.
Easy to make, and only six moves to open, if you know them.
Size of this box is 3" by 3" by 3" if made from 1/8" wood and plywood.
This puzzle kit has alignment pegs built into the parts to make assembly easier and virtually every part in the kit is labeled.
Sample Photo Assembly instructions